Top 10 Tips for Commuting by Bike + 1 Bonus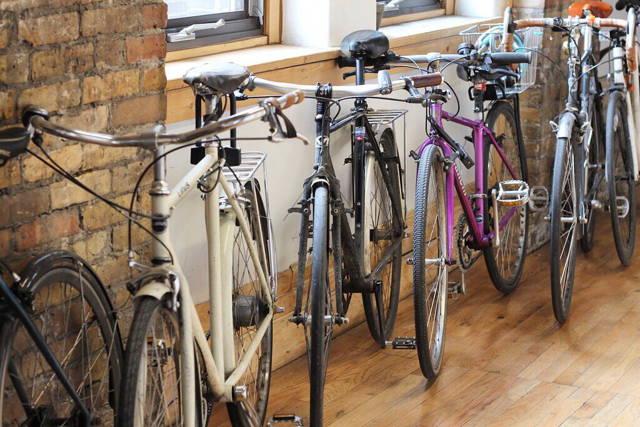 For many of us, riding to work is the most enjoyable mode of transportation. At the same time, getting started commuting by bike can feel overwhelming. That's why we've created this Top 10 list (plus one bonus) of practical, tactical things you can do to make commuting by bike fun and easy.
The idea of riding to work in the rain can be less than appealing when first commuting by bike. Fortunately, it only rains on average 6 - 8 days per month from May through October (at least in Toronto where we are based). When getting started commuting you can make things easier for yourself by picking sunny days to commute by bike. When the morning comes to hop on your bike you can look forward to enjoying the sunshine!
2. START WITH WHAT YOU HAVE
When starting out, it's great to start with the equipment and clothing you already have. This has two advantages… First it allows you to get started without making a big financial commitment. Second, you'll learn through trial and error what equipment and clothing is most important to you. When the time comes to invest in the right gear… you'll be better able to select the gear that's right for you.
The one caveat here is safety equipment. You'll want a helmet that fits properly and in good condition. If you can't remember when you purchased your helmet, it's likely time for a new one (helmets last 3 - 5 years). You will also need lights and a bell (see below for more details).
Use what you have and get started!
Some of you will be able to ride to work in the same clothes you wear throughout the day. This will be the case if you prefer to ride at a moderate speed that requires little effort and your work attire is suitable for riding.
Those of you who require a change of clothes have options. Some people prefer to ride with their change of clothes in a backpack or pannier. Sometimes it is helpful to roll your clothes instead of folding them to save space and avoid wrinkles. Other people will prefer to leave a change of clothes at the office. In this case you can shuttle your clothes on days that you don't ride. You can also do a combination of the above by leaving bulky items (e.g., shoes, boots, sweaters, etc.) at work and putting smaller items in your bag.
The best option is to park your bike inside whenever possible. Many buildings today offer safe bike storage to tenants. Workplaces in smaller office buildings are also creating bike parking inside the office in hallways or other areas where space is available. If you have to park your bike outside, make sure your lock secures your frame to the rack and not just your wheels.
This one is based on personal preferences. The advantage of a backpack is that it requires less expense and no special equipment. When selecting a backpack you'll want to consider it's the correct size to fit your gear, has a retention system that secures the bag to your body, and has high quality ventilation on the back panel and straps. Also pay special attention to where the straps sit near your neck… you'll want to avoid packs that rub against your neck as this will lead to significant discomfort.
The advantage of a rack and pannier system is that it's more comfortable for a lot of people. Your bike carries your gear so you don't have to. You'll want to make sure the rack you choose is compatible with your bike. The best way to know for sure is to bring your bike to the shop when you're selecting a rack.
6. USE BIKE MODE IN GOOGLE MAPS TO SELECT A ROUTE
Google Maps allows you to select your mode of transportation when getting directions. By selecting the bike option it will provide routes that are often a much better option when riding in big cities. Our shop in Toronto is located just south of HWY 401 and when riding for the north it is sometimes hard to find a hidden bike path and avoid busy streets. Not only does using Google's bike mode make riding safer, it also makes it more enjoyable!
If you're not sure how long it will take to get to work by bike then it's a great idea to do a test ride. Pre plan your route using Google Maps bike directions and determine your riding distance. Doing a test ride on the weekend will give you an idea of how long your commute will be. This way you can start your first day of commuting by bike with confidence that you will arrive on time.
8. WHAT TO DO IF YOU GET A FLAT
Changing a tube is pretty easy with a little practice. However, if you haven't done it before then it may take some time. If you get a flat you have options…
Riding with a spare tube, a pump or CO2 inflator and tire levers is good practice even if you are not able to change a flat yourself. At least you'll have what you need if someone comes by who's able to help.
CAA Bike Assist (in Canada) and AAA Bicycle Roadside Assistance (in the United States) is included with CAA & AAA memberships. It is roadside assistance for your bicycle. If you run into a problem that cannot be fixed on the spot, they will transport you and your bicycle to where you need to go. It's available as part of your membership 24 hours a day, 7 days a week, 365 days a year. This is great for riding to work… as well as remote rides on the weekend.
And of course there is always Uber (who has saved our employees on more than one occasion).
Check your local laws for requirements of lights and bells. In Ontario you are required to ride with a bell at all times and a front white light and rear red light (or reflector) while riding between
(30 minutes before) sunset and (30 minutes) after sunrise.
We highly recommend using your lights during daylight hours. Even during daylight, drivers will often notice cyclists with front and rear lights sooner than cyclists without lights.
10. COMBINE LONGER COMMUTES WITH PUBLIC TRANSIT
You don't have to ride the entire distance if you don't want to. Many municipalities have provided bike racks on busses and allow bikes on subways and trains outside of peak travel times. Check with your local public transport agency to understand the rules in your neighbourhood.
BONUS : PICK A BIKE YOU LOVE
Let's be honest, we're here to sell you a bike. When buying a new bike you deserve a bike you love. That's why we made The Don. It's the first aluminum (and most affordable) bike from KindHuman. Not only is it made in Canada, it's also available in over 1000 different colour combinations with our custom paint option.
---