How to Choose the Best Bicycle for Commuting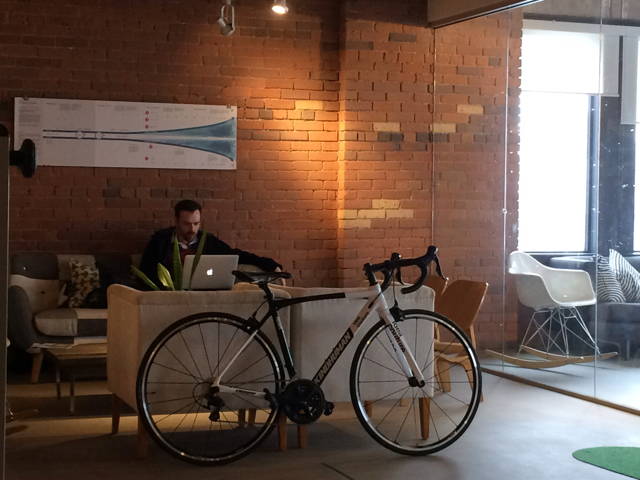 We're often asked "what's the best bike for commuting?" The truth is that this is different for different people. Here are several things to think about when buying a bike that you'll use for commuting.
We always start with riding style and the bike's intended use when helping our customers select the best bike for them. Casual riders (shorter distances and/or slower speeds) are typically most comfortable on "hybrid" bikes. These are bikes with road style wheels and mountain bike style handlebars (also referred to as flat bars).
Gravel bikes are becoming increasingly more popular for commuters due to their versatility. The wider tires found on gravel bikes offer more comfort and the ability to go off-road. At the same time, gravel bikes come with a road style handlebar and allow you to ride at faster speeds when compared to hybrid bikes.
We even have some customers who enjoy commuting on their high end road bikes as their commute doubles as a training ride (and this may be their only bike).
Whether you choose aluminum, steel, titanium or carbon fiber, there is a wide range of qualities for any given frame material. Regardless of frame material, high quality raw materials will result in higher performance and lower weight. This makes for bikes that are more responsive and provide better handling.
Aluminum bike frames are made with 7000 series tubing offer higher performance when compared to 6000 series aluminum. High modulus carbon bike frames perform better because they use higher tensile strength and higher quality resins (less filler) than regular modulus carbon frames.
When comparing between different materials one will typically choose aluminum because of its durability and lower cost. Carbon frames (especially high modulus carbon) will typically offer higher performance and lower weight (by approximately 400 grams depending on models being compared) relative to aluminum.
We always recommend buying a bike from people who can help you select the correct size. At KindHuman we have been selling custom built bikes for close to a decade. We are here to guide you through the sizing process whether virtually or in-store. The most important aspect of bike fit is selecting the correct size frame. When you hear people talking about "geometry" they are referring to the bike frame's tube lengths and angles. Often times bikes labeled as the same size (e.g., 54cm, Medium) will have different top tube, seat tube and head tube lengths resulting in different sizing.
You'll also want to make sure you select the right size for your specific needs. Riders of the same height may best fit a different size bike due to factors such as body proportions (e.g., relatively long arms), one's flexibility, and intended use (e.g., more performance vs. more comfort).
Feel free to reach out to us if you'd like our help understanding how to read a geometry chart and/or advice on selecting the right size bike for your unique situation.
Tire size can often make the biggest difference when comparing different bikes. Wider tires provide more comfort (because they can be used at lower pressure) and traction (because they have a larger contact patch with the ground).
You can often fit a wide range of tire widths on the same bike as one size wheel can fit a range of tire widths. The limiting factor is typically the clearance available between the tire and the bike frame or fork. A big advantage of disc brake bikes is that they typically offer much larger tire clearance than rim brake bikes.
When commuting on smooth roads most people will prefer a tire size between 28c and 32c. When commuting on rough roads, gravel or dirt then you'll likely prefer a tire size between 35c and 38c. With all things being equal choose a narrow tire if you prioritize speed and a wider tire if you prioritize comfort. For example, many people commuting on smooth roads find a 35c tire to be ideal when comfort is the priority.
Tire sizes are listed on the sidewall of your tire. The first number refers to the diameter (e.g., 700c or 29"). The second number refers to a tire's width (e.g., 25c or 2.0"). You will see this on the sidewall written as 700 x 25c for example. Road tires are typically measured in millimetres and indicated by the "c". Mountain bike tires are typically measured in inches.
As an aside, when buying a new tube you'll see a range of widths listed on the box. For example, a tube listed as 700 x 28-32c will fit tires between 28c and 32c wide.
We can spend all day talking about tires so feel free to reach out to us if you have any questions.
Riders who want to use fenders and/or rack will want to ensure their bike comes with mounts. These are eyelets in the frame and fork that allow you to attach the rack and/or fender with screw.
The max weight you can carry with your rack depends on the capacity of the rack and the bike frame - whichever is lower. The weight limit should be available from the rack and bike manufacturer. Aluminum bikes will typically, but not always, have a higher weight capacity than carbon bikes.
Let's be honest, we're here to sell you a bike. When buying a new bike you deserve a bike you love. That's why we made The Don. It's the first aluminum (and most affordable) bike from KindHuman. Not only is it made in Canada, it's also available in over 1000 different colour combinations with our custom paint option.
---